Friday, December 6th
Metro's Weather Policy
If BOTH Edmond and Oklahoma City Public Schools are closed, then Metro is Closed. We will be scheduling make ups the week of December 16th.

Celebrating our 32nd year of business!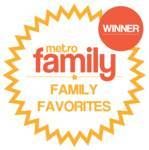 Metro Gymnastics is proud to serve the Oklahoma City and Edmond area for the past thirty two years, providing organized recreational and competitive gymnastics programs for children of all ages!
Whether you are looking for a opportunity to bond with your toddler or looking for a home for your competitive gymnast we have it all.
See a description of all our classes in our About Us section.


2013-2014 Fall Schedule

We are now taking enrollment for the 2013-2014 FALL and WINTER program. Download the enrollment form, print it out and mail it in. Please call or Email for class availability as classes are filling up fast! Registration fee is required to hold your child's spot.




UPCOMING EVENTS AT METRO GYMNASTICS!
Parent's Visitation


December 9th - 13th
Come to your child's regular scheduled gymnastics class and watch them show off their skills!
Don't forget your camera!
The "Leotard Lady" will be here too if you need an extra gift for the holidays!




Drop and Shop


Need some more time for that last minute holiday shopping?
Drop your kiddos off at Metro for some fun games and activities. Pizza and Drink are included!!
Sign up in the office 405-848-5308 or email us at metrogymokc@sbcglobal.net
Space is limited!
Thursday, December 19th
11:00-2:00
$20 for the first child/ $10 for sibling

Please call or email the office to sign up for any of these fun activities. Click on our extra activities link for more information about these activities.


metrogymokc@sbcglobal.net

or 405-848-5308

GOOD LUCK TO ALL OUR TEAM MEMBERS COMPETING AT THE UPCOMING MEET SEASON!



Like us on Facebook and Follow us Twitter